ASIA'S PS3 AUCTION!



OK, I got a hold of one of those new Playstation 3s that you've probably heard about, or maybe even tried camping out for. Since baby Donny and Catalina are more than enough for me to handle right now, I figured someone else can give this a better home. So, I'm offering this Playstation 3 for sale in my own little auction.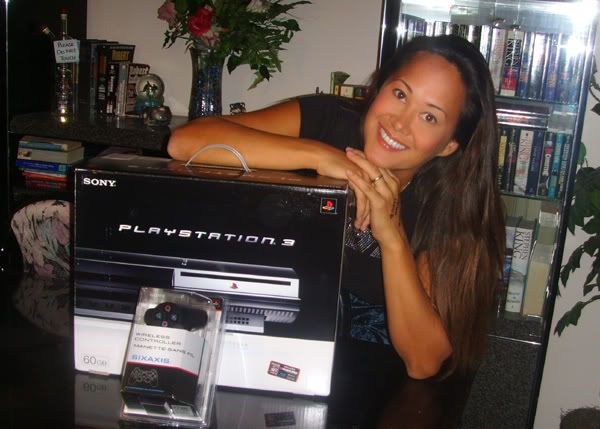 Sweet, huh? I'll even throw in an autographed copy of this pic too, if you like!
What's included: Playstation 3 console (60 GB version with wireless networking) new in box, one extra wireless controller, one "Genji: Days of the Blade" game for PS3, and one Blu-Ray DVD of the movie "Talladega Nights." If you want the only PS3 in the world autographed by yours truly, I'll throw that in too.


***The Bidding has ended. Thank you to all participants.***
Bid Amount
(as of 9:00 PM ET 12/12/06)

Buyer
Location

&nbsp$1750

PCDanno

IL

&nbsp$1200

CW

LA

&nbsp$1150

CRMP

AK

&nbsp$1100

CW

LA

&nbsp$1051

TwoDogs

CT
(low end bids removed to save space)
Terms and Conditions:
1) Serious bidders only, 18 years of age or older. No wiseguys!
2) Auction is anticipated to end on Dec 12, 2006 to allow time for payment and shipping.
3) High bidders will be verified by phone. All bids final and non-rescindable. In the event of tie bids, the earlier bid shall be the winner. In the event that the winner is unable to fulfill the purchase, the next highest bidder shall be the new buyer.
4) Contact information (email & phone number) will only be used to verify bids. They will not be sold or used for anything else. Privacy will be maintained for all bidders.
5) Winner must put $100 deposit via Visa/Mastercard. Balance of payment must be received by certified check, money order or wire transfer within 48 hours after end of auction in US currency.
6) Winners outside of Utah are responsible for reporting and paying their own sales taxes, if applicable
7) PS3 will be shipped via insured FedEx or UPS
8) We reserve the right to reject any bid for any reason
9) Any console defects shall be remedied under manufacturer's warranty Con8
10) Other questions may be answered by asking "me2" in my chat room